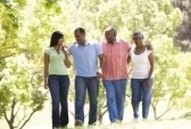 WALKING

Walking is considered among the best exercises for overall fitness and weight loss you can do. Walking works in many ways by burning calories, boosting the body's metabolism, and toning/strengthening muscles. Listed as one of the best exercises within the aerobic classification.


---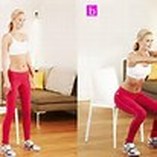 SQUATS

Squats are one of the best lower body exercises you can do. Why? One reason is that squats are multi-joint exercises which target all the muscles of the hips, glutes and thighs. This version, which requires no weights or equipment (other than a chair) is great for beginners, for anyone with knee problems or for those who are overweight and need a bit more support. It's also great for anyone wanting to add more functionality into their lives because it mimics the movements we do each time we sit down or stand up.

How To: 1. Place a chair just behind you and stand in front of it with feet about hip-or shoulder-width apart. 2. Contract the abs and keep them tight as you bend the knees and slowly squat towards the chair. Keep the knees behind the toes as you sit down on the chair for a few seconds. 4. Contract the glutes and hamstrings to lift up out of the chair and begin extending the legs. 5. Fully extend the legs until you're back to standing position. 6. Repeat this for 1-3 sets of 10-16 repetitions. 7. To progress,
squat down until you're just hovering over the chair, but not sitting all the way down. 8. Always keep the knees in line with the toes!

---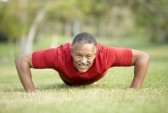 PUSH UPS

Push ups, like squats, are compound movements using almost all the muscles of your body. You'll work your chest, shoulders, triceps, back and abs all while increasing your upper body strength.

How to: get down on the floor (lawn if outside) in a prone position with hands spread about shoulder length apart. Keep your body in a straight line. Push upwards until your arms are extended and then drop your chest until touches the floor or lawn and repeat. Complete 3 sets of a reasonable number for you, even if only 1-2 per set. Add more reps as you get stronger.
---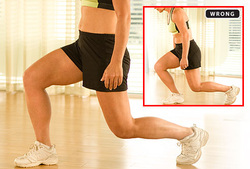 LUNGES

Like squats, lunges work most of the muscles in your legs including your quads, hamstrings, glutes and calves.

How to: Stand in a split-stance (one leg forward, one leg back). Bend knees and lower body into a lunge position, keeping the front knee and back knee at 90 degree angles. Keeping the weight in your heels, push back up (slowly!) to starting position. Never lock your knees at the top and don't let your knee bend past your toes. Variations: front lunges, back lunges and side lunges. Do this exercise 2-3 times per week for 12 to 16 reps


---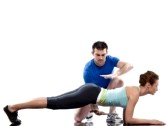 PLANK

The plank (or hover) is an isolation move used in Pilates and Yoga and works the abs, back, arms and legs. The plank also targets your internal abdominal muscles.

How to: Lie face down on mat with elbows resting on floor next to chest. Push your body off the floor in a pushup position with body resting on elbows or hands. Contract the abs and keep the body in a straight line from head to toes. Hold for 30-60 seconds and repeat as many times as you can. For beginners, do this move on your knees and gradually work your way up to balancing on your toes.


---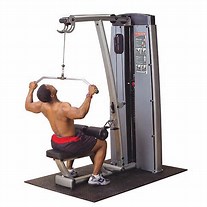 Lat Pulldown

If you have access to exercise equipment this is one of my favorites. The lat pulldown works on the major muscles of
your back (the latissmus dorsi), which helps you burn calories and, of course, strengthen your back. Research in the Journal of Strength and Conditioning Research found that a 'wide overhand grip' lateral pull-down was the best exercise to do to get a stronger, shapelier back.


How to: Sit on the lat pulldown machine and hold the bar with palms out and wider than shoulders. Pull your abs in and
lean back slightly. Bend your elbows and pull the bar down towards your chin, contracting the outer muscles of your back. If you do not have access to the equipment and have weights at home this is an option. Grab a weight and bend over at the waist and with your free hand hold unto a chair or desk. Pull your elbow up until your upper arm is parallel to your body, then return the weight to the extended arm beginning position and repeat doing 8-12 reps at a comfortable weight. Switch hands and work the other side of your body.


---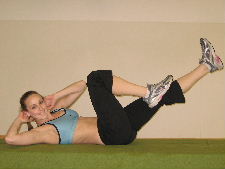 Abs: the bicycle maneuver


Research shows one of the best exercises for the abs is the bicycle maneuver.

How to: lie down on your back, place your hands behind your head with fingers interlocked and pull each knee
alternately towards your chest and twist the opposite elbow towards the knee as the leg comes back in. Work to exhaustion and stop.


---









Chin Ups

Chin-ups are actually considered by the American Council on Exercise to be a different exercise from pull-ups. The
primary difference is that with a chin-up your palms will face you and with a pull-up they will face the other way. Another important distinction is that chin-ups tend to isolate and exercise the biceps while pull-ups work and develop the back, aka the "lats," more strenuously. Most people, myself included, consider pull-ups the more difficult exercise of the two.

How to: if you do not have access to a gym you can get a bar that fits in your door at most atheletic stores. I
would start with my palms facing until you get stronger and pull your self up until your chin is above the bar. If this is very difficult, start with doing (1) or three sets of (1) and increase as you build your strength. Be prepared for muscle soreness and it is very important to rest at least one day and return to the exercise.

---

With just a few basic exercises you can get a full body workout completed in about 30 minutes. All of these exercises except for the lat pulldown can be done without going to the gym. If you have any health challenges check with your physician before beginning an exercise program.