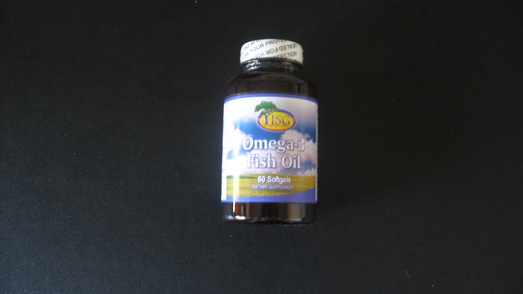 HSG Omega-3, - 60 softgel (note to vegens the softgels are made from gelatin), $9.50 plus tax and shipping

What is Omega-3 Fish Oil

Omega-3 Fish Oil: A class of fatty acids found in fish oils, especially from salmon and other cold-water fish. Fish oil contains two special fatty acids known as EPA and DHA.

Why do I need it

These are essential fatty acids for human health - both fatty acids are backed up and proven through hundreds of scientific studies over the past two decades. In an issue of the Journal of American Medical Association, investigators from the Harvard School of Public Health reported that women who consumed more fish and fish oil (omega-3 fatty acids) significantly reduce their risk of heart disease. In this study, among 85,000 women enrolled in the Nurses' Health Study, those who ate fish 2 to 4 times per week reduced their risk of heart disease by 30%, compared to women who rarely ate fish. The FDA announces Qualified Health Claims for Omega-3 Fatty Acids, September 8, 2004. Omega-3 fatty acids are beneficial because they provide fluidity to cell membranes and improve communication between brain cells. At least half of our brain tissue and nervous system is composed of fats, which is the reason why medical professionals are finding that many diseases of the mind are caused by a deficiency in EFA's.

Omega-3s also reduce the clotting ability of platelets, thus potentially decreasing the incidence of heart attacks and strokes.
In a study published in the April 11, 2002 issue of the New England Journal of Medicine, investigators from Massachusetts General Hospital reported that men in the Physician's Health Study (men who had no evidence of prior heart disease) who consumed omega-3 fatty acids had a significantly reduced risk of sudden death. EFA's also play a role in regulating blood pressure, which is definitely important to cardiovascular health.


And finally, Disease Prevention And Treatment by Life Extension Foundation, page 533 - "DHA is not only very critical in brain development but also in maintenance of the brain later in life. Don't forget, the brain is constantly restructured throughout life, even into the extremes of age...". Apparently, DHA helps improve what's called vasodilation, a medical term that means your blood vessels and arteries open up and relax. That means healthier blood flow and improved blood pressure and your heart doesn't have to work so hard.

So, what have we learned about fish oil;
* may help prevent heart disease as well as the onset of diabetes
* may assisting in the lowering of blood pressure
* can benefit good cholesterol levels
* the EPA and DHA in fish oil may increase both male and female fertility
* may benefit in the treatment of depression
* reduces inflammation in the body which can affect everything from arthritis, diabetes, heart disease and cancer
* slows liver production of undesirable triglycerides
* assists communication between brain cells and the body

Caution: any individual with a known medical condition should consult with a physician before begining any supplement program

Orders Placed Today Will Be Received Within 3-5 Business Days