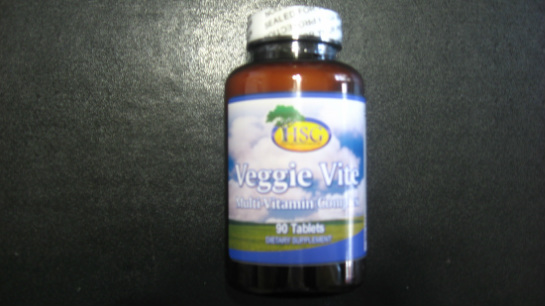 HSG Veggie-Vite, 3-A-Day $14.95, plus tax and shipping - 90 Coated Tablets

What is Veggie-Vite


HSG Veggie-Vite Multi-Vitamin Complex provides vitamins, minerals and phytochemicals (biologically active compounds) that are found in relatively small amounts in plant food. These compounds have been linked to human health by contributing to protection against degenerative disease such as (coronary heart disease, diabetes, high blood pressure, inflammation and infection).

* Vitamin A - 5,000 IU, * Beta Carotene - 1,000 IU, * Vitamin C - 200mg, * Vitamin E - 200 IU, * Vitamin B-1 - 20mg, * Vitamin B-2 - 30mg
* Niacin - 30mg, * Pantothenic Acid - 25mg, * Vitamin B-6 - 20mg, * Vitamin B-12 - 200mcg, * Biotin - 75 mcg, * Folic Acid - 400 mcg,
* Calcium - 200mg, * Magnesium - 125mg, * Zinc - 10mg, * Copper - 2mg, * Vitamin D-2 - 400IU, * Calcium D-Glucarate - 30mg,
* Chromium - 200mcg, * Allicin (from odorless garlic) - 300mcg, * Polyphenol Catchine - 10mg (from Green Tea Extract 30mg),
* Gluycyrrhizin - 30mg (from Licorice Root), * Rosemary Extract - 75mg, * Freeze Dried Broccoli - 100mg, * Freeze Dried Tomatoes - 100mg,
* Choline - 25mg, * Inositol - 30mg, * Molybdenum - 100mcg, * Iodine - 150mg (from Kelp), * Selenium - 50mcg, * Boron - 3mg,
* Silica - 10mg, * Organic Horsetail - 225mg * Vitamin K-1 - 50mcg * Fructooligosaccharides - 200mg

Why Do I need it


We all need to take a good whole food multivitamin on a daily basis. This is to make sure that we're getting all the necessary nutrients from complete whole food sources as the body is meant to. If you have a good diet full of super foods, organic fruits and vegetables and other natural sources, then a multivitamin may not be as necessary though we still recommend you take a mulitvitamin for extra protection.

With the soil being so depleted, the air so polluted, less sunlight hitting the earth; together robs our food of nutrients. For example, cabbage, once high in vitamin C, today has little. Wheat, once as high as 17 percent protein, now contains only about 9 percent. Micronutrient poor foods, like pasta, sugar, and soda, dont't just give you empty calories and make you fat; they also do damage to the body and cause disease. Our formula has been designed to supplement an individual's diet and exercise program that even the most conscientious consumers may not consume through diet alone.


These statements have not been evaluated by the Food and Drug Adminstration and these products are not meant to diagnose, treat, cure or prevent any disease.
It is best to consult with your health practioner before beginning any supplement therapy
Customer Testimonial

Clem
I am writing to advise Veggie Vite has been successful in helping me maintain a constant level of energy. At the age of sixty eight my doctor
recommended taking vitamin B-12 on a daily basis. I admit it did help. I have been taking Veggie Vite for over three months and it helps even more.
Before taking Veggie Vite I would run out of energy while playing 18 holes of golf. Now my energy level is constant while playing and I have experienced
a slight improvement in my score. I have recommended this product to my wife and friends.

Thank you for introducing Veggie Vite to me.

Charles Brandon Agent
Brandon & Associates Insurance

Tel 317 845-8820
Fax 317 845-8840

Orders placed today will be received within 3-5 business days