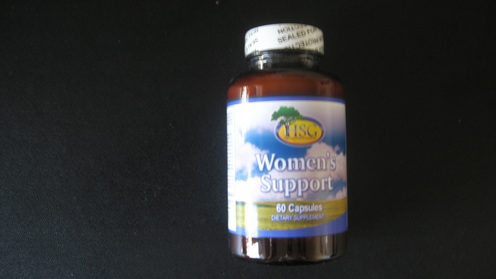 HSG Women's Support, $15.95 plus tax and shipping - 60 Capsules

What is Women's Support

Our HSG Women's Support formula utilizes herbs and compounds known to help ease the symptons
of menopause and perimenopause.

Why do I need it

Menopause means the end of menstration and a long term change in hormone production. As the ovaries slowly decrease production of estrogen and progesterone, the disrupted balance of hormones may cause a variety of symptons to occur, such as; hot flashes, night sweats, pain during intercourse, increased anxiety or irritability and the need to urinate more often. Women's Support will:
* Help regulate hormone levels
* Increase energy
* Encourage weight loss
* Boost alertness
* Regulate mood
* Help minimize hot flashes

Ingredients

Soy Isoflavones - 30mg, Black Cohosh - 160mg, Son Quai - 150mg, Licorice Extract - 150mg, Vitex
Berry (herb powder) - 100mg, Red Clover - 400mg, Sage Extract - 200mg, False Unicorm (herb powder) - 50mg, Squaw Vine (herb powder) - 20mg, Blessed Thistle (herb powder) - 50mg, Red Raspberry Extract - 50mg, Mexican Wild Yam (12.5% extract) - 125mg.

These statements have not been evaluated by the Food and Drug Administration. This product is not intended to diagnose, treat, cure or prevent any disease. Do not exceed recommended dose. Any individual with a known medical condition should consult with your health care practitioner before using this or any dietary supplement.

Orders Placed Today Will Be Received Within 3-5 Business Days